School Improvement (Secondary)
The Wade Deacon Trust has an ambitious strategy with a clear focus on school improvement, supporting the Wade Deacon Trust academies as well as supporting school improvement externally.
Led by the Trust Lead Principal (Secondary) – Simon Corner, The Secondary Quality Assurance model provides the additional capacity to the Trust to ensure that all schools are supported effectively by experienced practitioners.
The Secondary School Improvement Team consists of:
A Lead Principal who leads across the Secondary Phase and is also the Principal at Wade Deacon High School.
Strategic leadership across the Trust from each Principal focusing on Quality of Education, Behaviour and Attitudes, Personal Development and Quality of Education for vulnerable students.
A strategic lead for Teaching and Learning across the Trust
A Director of Maths across the Trust
SEND and Pupil Premium Reviewers
Subject specialists across the full curriculum trained to review the quality of education within subject areas and subject and key stage leader professional development.
Experienced Secondary Principals offering bespoke support in terms of behaviour, safeguarding, SEND, school attendance and pupil premium.
Additional school improvement support led by the Lead Principal. For example: Curriculum, Teaching, Learning and Assessment, curriculum deep dive activities, curriculum led financial planning (CLFP), strategic financial planning, Quality Assurance, senior leader development, Governance, leadership coaching and mentoring.
Quality Assurance Cycle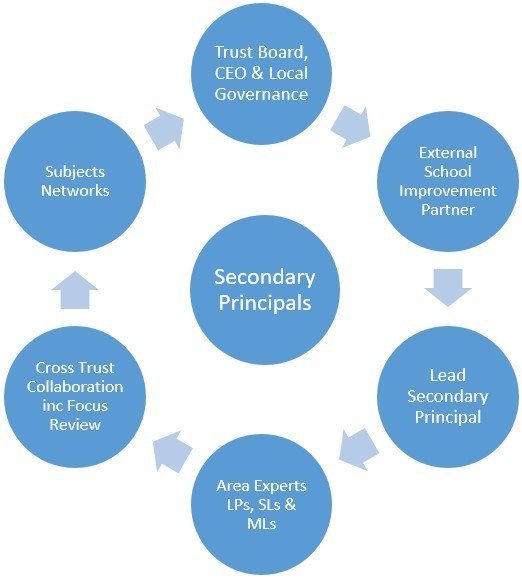 Secondary SLE's
Across Wade Deacon Trust we have Secondary SLE's who support school improvement both internally and externally.
Fiona Bray - English, Leadership & T&L
Marie-Anne Catterall - English (Senior Leader of English)
Jan Clieve - Mathematics
Mike Edwards - Pupil Premium
Jane Goulding - ITT & NQT Development
Kathryn Hall - SEN
Jen Hayden - Assistant Principal of Teaching & Learning/ Faculty Leader of Humanities
James Jones - Computer Science
Adam Mitchell - PE, Leadership, T&L
Hayley Scott - Teaching, Learning and Coaching
Helen Stockley - Mathematics
Matthew Ward - PE
School Improvement - Collaboration
All schools contribute to the school improvement / quality assurance model. Every senior leader is trained to review, evaluate and support key areas of each school. This is not only key to ensuring we know the strengths and areas for development in each of our schools but is also one of the main ways leaders work collaboratively to develop their practice, knowledge and expertise.
All secondary schools across the Trust use the same model of assessment, tracking and monitoring to secure consistency and to provide cross trust standardisation and moderation. This supports collaboration between subject areas and allows leaders to develop curriculum collaboratively.
The assessment model ensures that data, for both KS3 and KS4, is accurate and students outcomes can be measured systematically across the Trust.
Assessment at KS3 is underpinned by a framework focused on the acquisition of core knowledge, skill and understanding that describes progression over time.
Low stakes assessment forms a significant part of our assessment model across both key stages.
All schools follow a 3 year KS3 curriculum to ensure students have the opportunity to study a broad and balanced curriculum in detail.
CPD within our Secondary schools is a key strength. All schools offer a wide range of opportunities to learn, evolve, apply and progress (LEAP).
The well-being of our staff and students, across all four secondary schools, remains a key priority. Leaders and staff from across the secondary phase work together to share ideas, debate key issues and support each other.
Leaders, across all schools, share a common moral drive to improve the life chances of young people in their care and provide an exceptional quality of education.
Trust Networks
As a Trust we offer 'Secondary Networks' where staff have the opportunity to share good practice, collaborate and lead on new initiatives. The networks are as follows:
Art & Design
Business Studies
Careers
Computer Science/ICT
Design Technology
Drama
English
Film/Media Studies
Geography
History

Maths
Modern Foreign Languages
Music
Physical Education
PSHE/SMSC
Religious Education
Science
SEND